Embracing organizational democracy as a system of advancements at workplaces!
Table of contents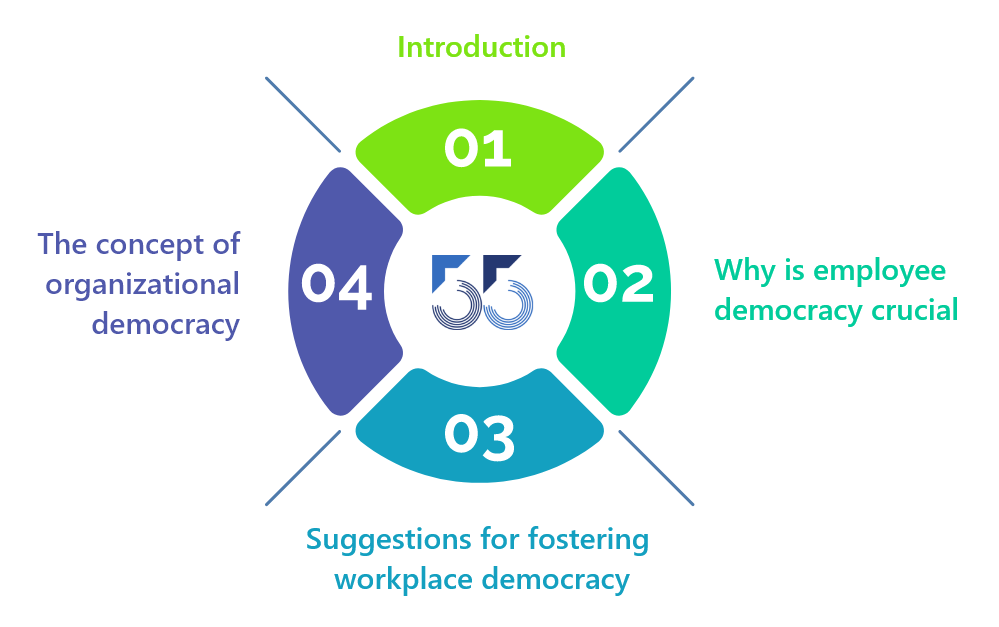 Introduction
With our today's concept of 'organizational democracy' comes the word 'democracy'. So, what is democracy and how does it differ from organizational democracy? Democracy refers to a system of government in which all members of a community or organization take part. In essence, they influence the course of the associations or societies they are a part of. Workplace democracy takes various forms than political or governmental democracy.
Increased employee engagement and happiness, higher levels of innovation, greater stakeholder loyalty, and, ultimately, improved organisational success are usually linked to organisational democracy. But democratic procedures can also squander a lot of time and other organisational resources, slowing down choices and possibly reducing efficiency.
Why is employee democracy crucial?
Because it makes employees more involved, 53% of workers, according to a Gallup poll from 2018, are not engaged in their work. Why does that matter, then? According to Gallup, greater involvement results in earnings-per-share growth that is actually more than four times that of their rivals. Additionally, happier workers result in better customer satisfaction, increased productivity, better staff retention, fewer accidents, and a 21% increase in profitability.
I'm going to assume that you now want us to provide you with some instances of workplace democracy so you can begin to incorporate this way of thinking into the regular operations of your business.
We do, however, have some suggestions for fostering workplace democracy
Be Open-Minded
Keeping your employees informed at all times, even if it's only to share a sales victory or encourage customer feedback, can make them happier and far more trustworthy.
Top leaders may share important or recent corporate information with the entire team or permit individual employees to give and receive feedback. Of course, this includes disclosing information to clients or the general public.
Distribute Authority
Delegating responsibility is fundamental to workplace democracy, and democracy in general. Make it clear who must do certain tasks so that everyone is aware of their responsibilities and nothing goes through the gaps.
The delegation also gives an employee a sense of importance while letting their talents and abilities flourish. As a result, your workplace democracy is more sound and the employee is more driven to carry out their job role.
If that's not enough to persuade you, perhaps knowing that businesses with strong delegators experienced faster overall growth than those with managers who delegated less will.
Leadership Standards For All Levels
You need leadership from the very top to the very lowest to keep things running smoothly. It is more important to have someone in control when necessary than it is to have power.
According to research, leadership at all levels not only results in "gold medals," but also strengthens businesses and workplace democracy.
Avoid a Hierarchy
Each department has equal importance. If the sales team is the only one making money, it shouldn't matter. Why? Considering that it is equally crucial to the business as marketing, accounting, human resources, and even reception. Your business just couldn't function properly without all of its sections, so be sure to treat them all fairly and equitably.
Strict regulations ought to be kept to a minimum
Make sure your organization has guiding principles that everyone upholds, but make sure they are flexible enough to allow for case-by-case decision-making. It's important to consider what makes sense, not just the principal or policy layout.
The truth is that maintaining management layers is quite expensive due to their high pay requirements as well as indirect costs related to supporting administrative infrastructure, etc. Flat structures contain fewer layers of management, with each level in charge of a sizable region or group. Flat organizations prioritize employee empowerment over maintaining the line of command. Flat organizational structures aim to unleash the creative potential of staff members and promote teamwork in problem-solving.
Employees self-manage through work groups and negotiate what they refer to as service agreements or memorandums of understanding with teams and coworkers in order to fulfil the goals they have established for both the individual and the group.
You know there are still some tricks through which you can create workplace democracy with your employees so that employee participation can take place:
Obtain Feedback
As a business owner, you are always searching for methods to improve your organisation, whether it be with a new product, a marketing plan, a way to raise morale, a technique to keep clients satisfied, and so forth. Your employees are your finest asset since you are constantly looking for new opportunities. Asking your staff for comments on anything and everything should become routine.
Create Transparency
By being open and honest with your staff about all business matters, you can increase employee engagement and build trust. To make "lower" employees feel like they can reach the "top dogs," for instance, reveal the company's KPI targets and the status of each one, the company's policies (such as the compensation range), and the management's contact information.
Construct Communication
Open lines of communication are essential if you want to increase output, raise morale, and reduce staff turnover. Your staff should feel free to approach you with any issues, innovative ideas, and anything in between. They regularly anticipate the same thing from you as well.
Increase Workforce Engagement
What is the simplest strategy to increase worker engagement? Send updates to keep everyone informed about business matters, and let them know about new campaigns before they hear about them elsewhere (you don't want your staff to learn about corporate news from a third party, whether it's about a factory shutting, a merger, or an intriguing new product).
With an employee, participation comes employee performance, and performance plays a major role for a company. The greatest and most frequently acknowledged advantage of involvement is that employees feel more invested in their work. Employee performance and efficiency at work are improved since they are more able to relate to their work.
The concept of organizational democracy is beneficial for some but not all!
In the end, we draw the conclusion that, even if there are conflicting economic justifications for organisational democracy, greater stakeholder involvement in value creation and organisational governance can be advantageous to both society and businesses.
Additionally, according to some surveys, one of the top reasons people change jobs is because of a bad relationship with their supervisor. Organizational democracy doesn't always function, as has been demonstrated.