Have you ever thought about the apparent paradox of sustainable technology?
Table of contents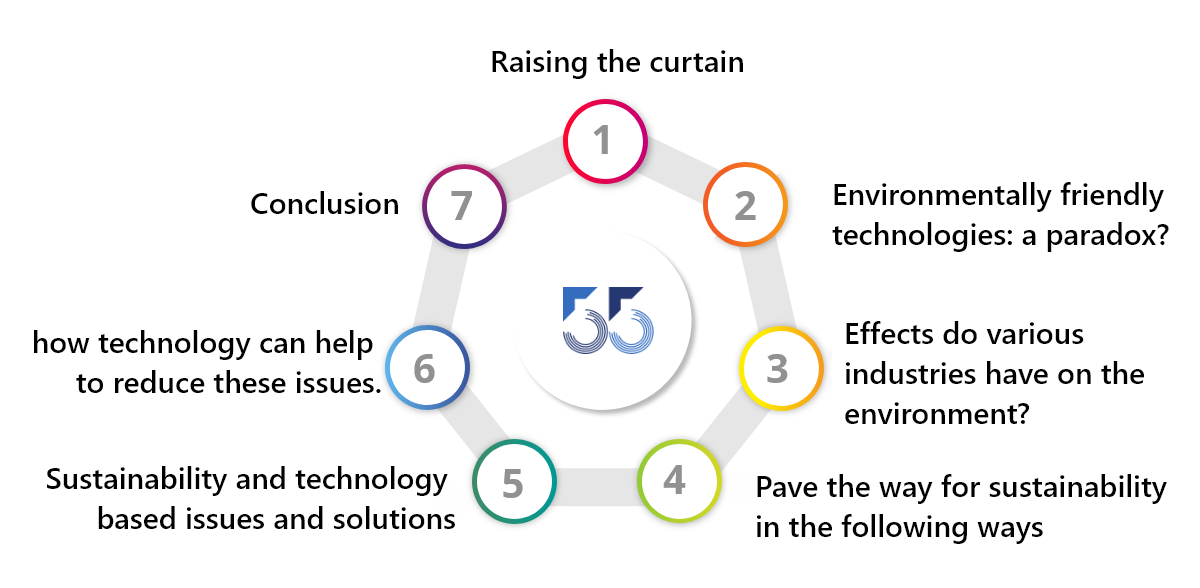 Raising the curtain
You've seen how closely our everyday lives are entwined with various devices, and you're hoping there's a way to make this coexistence harmonious. The need for technology that can be produced, utilized, repaired, and disposed of without harming the environment or the people involved is more important than ever.
Environmentally friendly technologies: a paradox? Let's look into it
Thus, what exactly is sustainable technology? Sustainable technology refers to innovation that respects natural resources and fosters social and economic development. These innovations seek to offer a sustainable product while significantly lowering risks to the ecology and environment.
Sustainability in the workplace has evolved from being a nice-to-have to a need for conducting business in the 2020s. Customers are increasingly judging businesses not only on their products but also on their impact on the environment and the community.
Businesses are starting to see the many benefits of adopting green workplace practices, such as cost savings, increased productivity, superior staff retention, improved employee welfare, and higher brand awareness.
The value of sustainability to business success has increased in recent years. Businesses may retain more employees by fostering a sustainable workplace culture. They can also reduce their carbon footprint, which may attract clients from further away. Organizations with a clear and well-managed approach to dealing with their environmental and social repercussions are better positioned to build their future and benefit from it.
What effects do the various industries have on the environment? Exists one? Continue reading.
Manufacturing, transportation, agriculture, and construction are responding to the call. These sectors affect where we live, work, and play as well as what we eat and how goods are transported. Industrial companies have a big harmful impact on the environment despite having a significant positive impact on human lives. To successfully lessen the harm that they inflict, we must have a clear understanding of the scope of the problem at hand. Even though it can be difficult to assess, knowing these baselines is crucial for setting new goals as well as accomplishing or exceeding them.
Let's examine the sustainable development recommendations made by the UN Global Compact.
A recent study found that a major percentage of CEOs consider sustainability issues to be crucial to the long-term success of their businesses. Only a few per cent of respondents, however, agree that businesses are making sufficient efforts to address the world's sustainability concerns. The failure of businesses to "perform better with less" due to the absence of tried-and-true best practices is largely to blame for the discrepancy between the goals and efforts of the organizations.
By incorporating sustainability into their fundamental business strategies, organizations.
Pave the way for sustainability in the following ways
You should assess and quantify your carbon footprint. To decrease their environmental impact and better support our climate, businesses should get a complete understanding of their current waste management and energy usage.
The advancement of sustainability activities within a company can be significantly aided by supply chain digitization. Artificial intelligence (AI), machine learning, and augmented reality (AR) are examples of cutting-edge digitalization technology that can be implemented to boost worker productivity and engagement while reducing overall carbon emissions.
Cooperation is favoured over the competition because the problems facing the globe are simply too complex for any one person or group to handle. To offer cutting-edge solutions that can restore the ecosystem's equilibrium, businesses today must collaborate with their rivals to benefit the environment at scale. Peer collaboration frequently produces concepts that aid a whole industry in reducing its environmental impact and motivates legislators and regulators to take action in favour of greener regulations. These collaborations may also lead to social and organizational improvements that lower the cost of combating climate change. One simple method to protect the environment is to use collaborative technologies to cut down on travel for meetings.
Due to a change in consumer behaviour, companies must make the most of all of their research resources, including their research teams and funding, to develop green products that not only assist the environment but also take the demands of the consumer into account. As an illustration, manufacturers of water purifiers are working to design equipment that promotes reduced water waste. The application of advanced recovery technology in technologies like Green RO could reduce the amount of water lost during filtering (ART). These innovations safeguard consumers' health and well-being while raising their environmental consciousness.
Sustainability- and technology-based issues and solutions
Here, we'll discuss the issues that businesses face. Companies in the industrial sectors of transportation, building and infrastructure, and agriculture have issues that make it challenging for them to decide whether to concentrate on the environmental effects or whether the technology is used appropriately.
Read about some of the issues certain sectors are facing and how technology can assist to reduce these issues.
How technology can help to reduce these issues.
Transportation:

Problem: To move goods across the nation and the world, using short- and long-haul carriers, trains, ships, and aeroplanes, the transportation sector burns a tremendous amount of fossil fuels, primarily from the combustion of petroleum-based fuels like gasoline and diesel, which accounts for 29% of greenhouse gas emissions.

Solution: There is potential for improvement, but the transportation sector does have a considerable environmental impact. Some of the various ways that technology can assist in this circumstance include a more advanced infrastructure for electric vehicles, tools for better fleet maintenance, increased fuel efficiency, and routing, as well as the widespread use of autonomous vehicles.

Building and infrastructure:

Problem: Although buildings and infrastructure are fundamental to our society and are necessary for our survival, they are also the source of 39% of the world's carbon emissions. The majority of emissions (28%) come from operational carbon, which is produced when a structure is used after it has been built and includes things like heating, cooling, and lighting. The remaining 11% goes toward producing the structure and the materials required for its construction.

Solution: The environmental impact of building and infrastructure development can be greatly reduced thanks to modern technologies. Early design processes, continued BIM usage, and the development of technology that allows project owners to visualize their projects before they are built can all reduce material use, carbon consumption, fuel use, and rework.

Agriculture:

Problem: Agriculture is the world's largest industry, with pasture and crops accounting for over 50% of the planet's habitable space. Farmers rank as one of the largest contributors to pollution in many countries since they use up to 70% of the freshwater on Earth and engage in practices like burning fields and using dangerous chemicals. According to the EPA's national inventory, cattle alone are responsible for 15% of the world's greenhouse gas emissions, with farming producing around 10% of those emissions.

Solution: Technology can be useful in the agricultural industry as well. Precision application equipment enables today's farms to operate with less water and chemical input, and cutting-edge technologies like robotics, drones, and various types of sensors may all assist agricultural businesses in becoming more effective and environmentally friendly.
Conclusion
Technology can be a useful instrument for promoting sustainability:
In today's world, technology has a solution for every issue, including its creative approach to addressing sustainability to ensure the sustainability of our planet for future generations. Technology is the best option for efficient outcomes.